NOW AVAILABLE Atlas Copco Portable Generators

Model
Daily Rate
Weekly Rate
Monthly Rate
Atlas Copco QAS25
25kw Quiet Enclosed Trailered Diesel Generator
$200
$600
$1500
Atlas Copco QAS45
45kw Quiet Enclosed Trailered Diesel Generator:
$250
$750
$1800
Atlas Copco QAS95
95kw Quiet Enclosed Trailered Diesel Generator:
$400
$1200
$3300
Atlas Copco P8000W
8kw Portable Wheelbarrow Gas Generator:
$75
$300
$600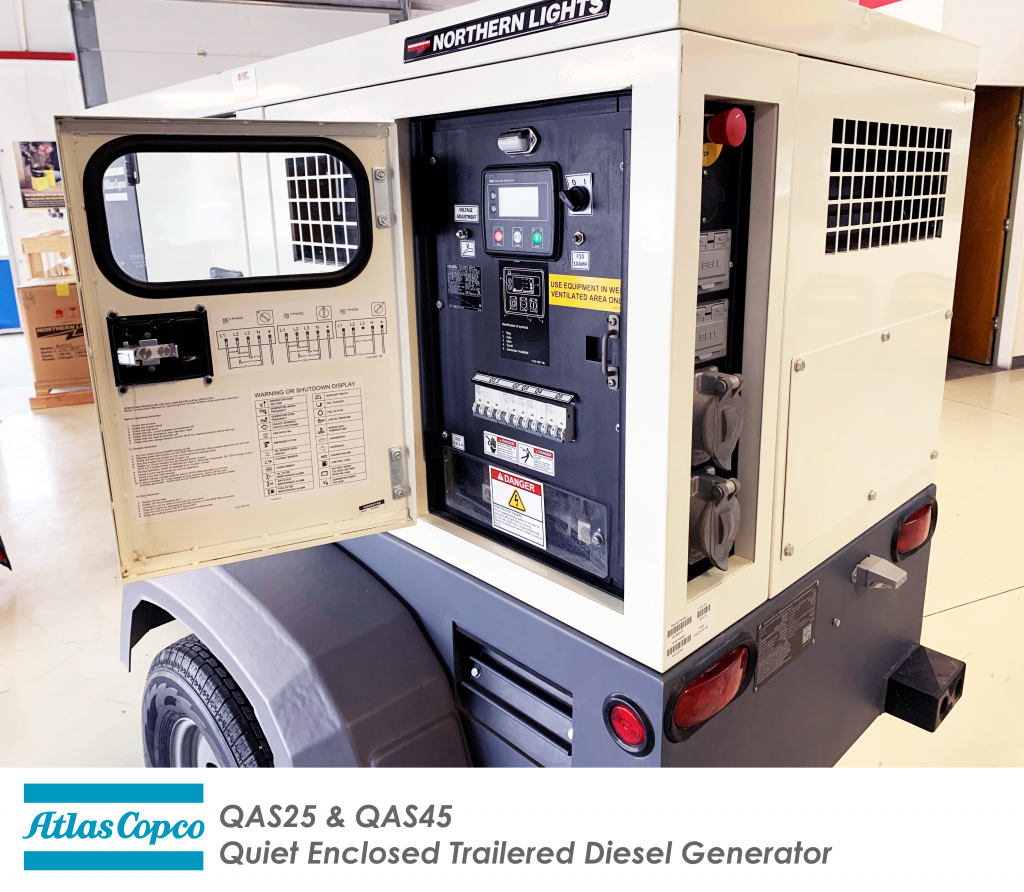 QAS25 & 45 FEATURES
Single Side servicing through large service doors providing quick access to components, including the alternator, engine and electrical components
Reliable proven engine
Heavy duty Leroy Somer-Arep alternator with multi voltage capabilities
Integrated fuel cell standard, allowing longest run time in its class
User friendly backlit display
Heavy gauge, powder coated galvanealed steel base frame providing sound attenuation, as well as, weather-proofing and protection from the elements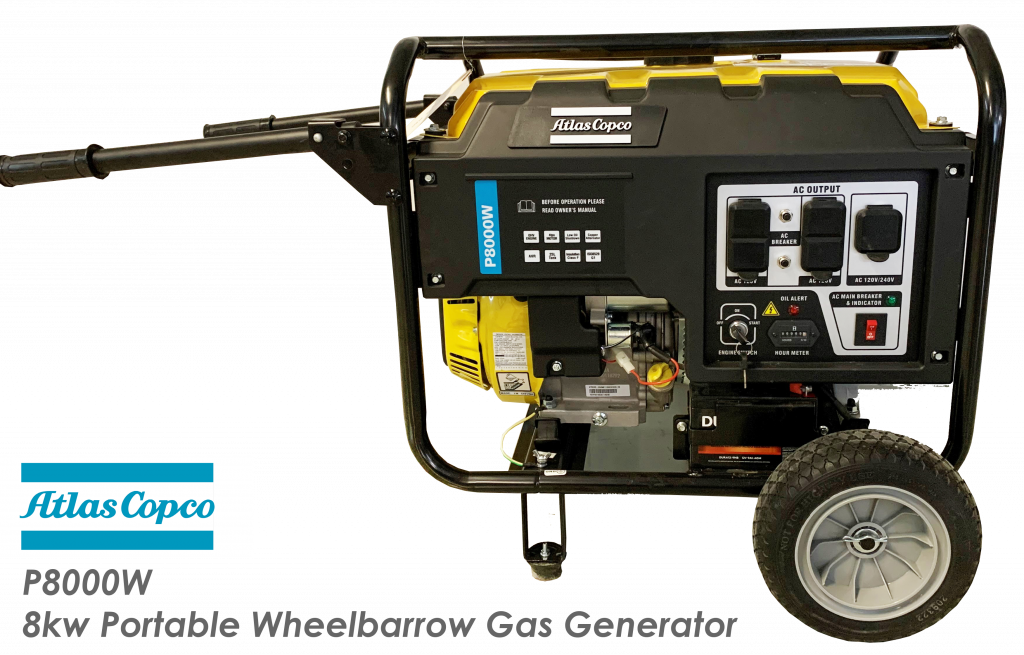 P8000W 8 kW FEATURES
Electric key start / recoil backup
Large fuel tank
Low engine oil protection
Two 120V 15A duplex socket & one 120/240V 30A twist lock
Automatic voltage regulation
Hour meter
Circuit breaker
Wheel kit and push / pull handles
---
ADDITIONAL RENTAL PRODUCTS & PRICING
| Brand | Model Description | | Daily | Weekly | Monthly |
| --- | --- | --- | --- | --- | --- |
| Atlas Copco | QAS 25 ID T4F NB - ENCLOSED TRAILER | 20kW Prime/ 25kW Standby | $200.00 | $600.00 | $1500.00 |
| Atlas Copco | QAS 45 ID T4F NB - ENCLOSED TRAILER | 36kW Prime/ 45kW Standby | $250.00 | $750.00 | $1800.00 |
| Atlas Copco | QAS 95 JD T4F EB - ENCLOSED TRAILER | 75kW Prime/ 95kW Standby | $400.00 | $1200.00 | $3300.00 |
| Atlas Copco | QAS 150 JD T4F EB - ENCLOSED TRAILER | 120kW Prime/ 150kW Standby | N/A | N/A | $4200.00 |
| Atlas Copco | QAS 250 JD T4F EB - ENCLOSED TRAILER | 200kW Prime/ 250kW Standby | N/A | N/A | $6000.00 |
| Atlas Copco | QAS 330 JD T4F EB - ENCLOSED TRALER | 265kW Prime/ 330kW Standby | N/A | N/A | $7500.00 |
| | | | | | |
| Atlas Copco | P 8000W AVR 3600rpm GAS PORTABLE | 6.5kW Prime/ 8kW Standby | $75.00 | $300.00 | $600.00 |
| | | | | | |
| Simplex | POWERSTAR 110 - LOAD BANK MOBILE | 100kW - 3 Phase - 240/480V | $100.00 | $400.00 | $1200.00 |
| Simplex | INFINITY 200 - LOAD BANK MOBILE | 200kW - 3 Phase - 240/480V | $200.00 | $800.00 | $2400.00 |
NOTES: Daily rental rates are 5 days or less – Weekly rental rates are 6 – 21 days – Monthly rental rates are 22 days or more.
Rental billing month cycle is every 28 DAYS.
We rent the full line of Atlas Copco Portable Generators. If you are looking for a specific product, large size generator, portable air compressor or pump please call for ordering information and a seasonal rate quote.